OWC Announces The Only Universal and Fully Compatible Thunderbolt 4 / USB-C Cable You Will Ever Need
One cable that can do it all - 100% compatible and certified reliable solution for interconnecting devices, and hundreds of millions of Thunderbolt 4, Thunderbolt 3, USB-C, and USB4 equipped Macs, PCs, tablets, and phones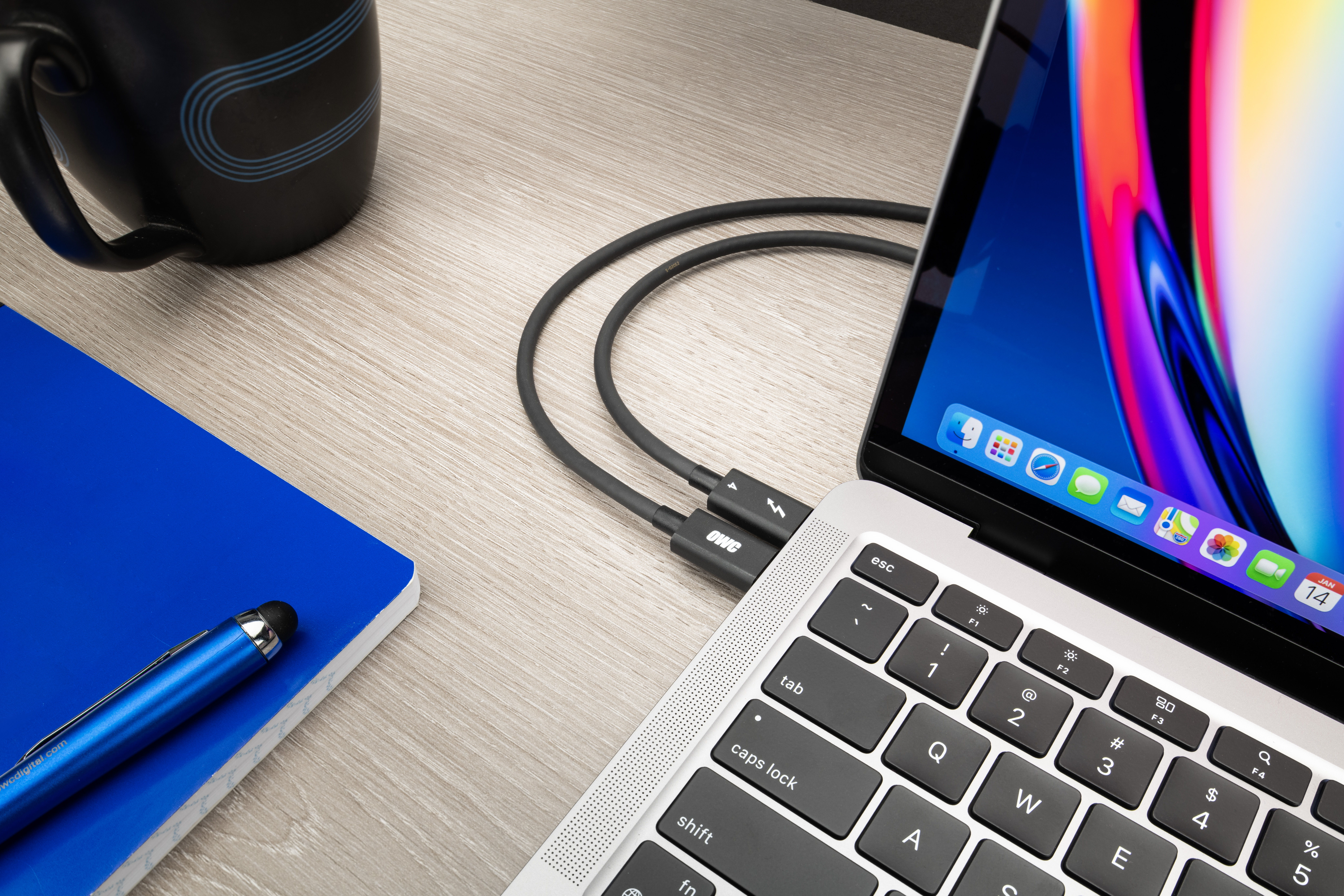 OWC®, the premier zero-emissions Mac and PC technology company, and a respected provider of Memory, External Drives, SSDs, Mac & PC docking solutions, and performance upgrade kits, announces its next-generation connectivity solution, the OWC Thunderbolt 4 / USB-C Cable. Whether connecting accessories, power, video or even networking the OWC Thunderbolt 4 / USB-C Cable is universal for everything making it the only cable you will ever need. Connecting with USB-C on both ends, this cable is safe, certified, and always reliable for Thunderbolt 4, Thunderbolt 3, USB 4, USB 3.2, USB 3.1, USB Power, Video, etc. And you get 100% of both the maximum power allowed and the full data capability supported from/between any USB-C port-equipped device and host.
​​
​No matter what kind of device or power level; be it a Mac, PC, tablet, or mobile device, the OWC Thunderbolt 4 / USB-C Cable never lets you down for your USB-C to USB-C connectivity needs. Contrast this with USB-type cables, which often carry no certification, have more limited and varying data speeds, and are not all rated and safe for the power level a system can demand. OWC Thunderbolt 4 cables take all the guesswork out for your USB-C to USB-C connectivity needs. Full certification for power and data capabilities provides peace of mind and ensured reliability regardless of what you need connecting.
From our research and first-hand experience, USB-C to USB-C cables are among the largest causes of technical support headaches. While many USB-C to USB-C cables 'look' and feel of quality, even being the highest quality USB cable doesn't mean it supports Thunderbolt or even high-speed USB-C 5Gb/s or 10Gb/s needed for modern USB-C docks and drives. This causes frustration, lost time, and lost productivity as devices fail to operate correctly, if at all, and with no apparent reason to the end-user. Using some USB cables for power connections is even dangerous when overpowering can risk excessive heat or worse. ​ ​
​​
​"With the OWC Thunderbolt 4 / USB-C Cable, you never have to worry or wonder if you have the right cable because it's a perfect cable for all of your C-to-C connectivity needs," said Larry O'Connor, Founder, and CEO of OWC. "If it fits your ports, it 100% does support. No other USB-C cable, other than one that is Thunderbolt 4 certified, can make this claim. As I introduce these new cables to individuals and groups, I can't tell you how many people have said they will be cutting all their other USB-C cables. Incorrect cable use is a real issue and headache we are excited to have solved."
​
​OWC Thunderbolt 4 / USB-C Cable Highlights
100% USB-C Compatible: connect to today's, tomorrow's, and yesterday's Macs, PCs, iPads, Chromebooks, Surface and other devices with a Thunderbolt 4, Thunderbolt 3, USB-C, or USB4
Certified for All Uses: enjoy lab test certified safe power delivery up to 100W of power, up to 40Gb/s of data performance, and up to 8K of video capability
Versatile Connections: connect any drive, dock, display, eGPUs, PCIe expansion, external SSDs, RAID storage, Power adapters, accessories, anything that goes USB-C to USB-C
Powerful: Certified safe delivery of up to the maximum 100 watts of power/charging from docks, adapters, and other devices that USB-C and Thunderbolt support.
Stunning visuals: connect up to 4K, 5K, 6K and 8K Thunderbolt or USB-C display
Guaranteed quality: 3 Year OWC Limited Warranty
Pricing & Availability
​The OWC Thunderbolt 4 / USB-C Cable is available now starting at $24.00 in 0.7M, 1.0M, and 2.0M length on MacSales.com.

​