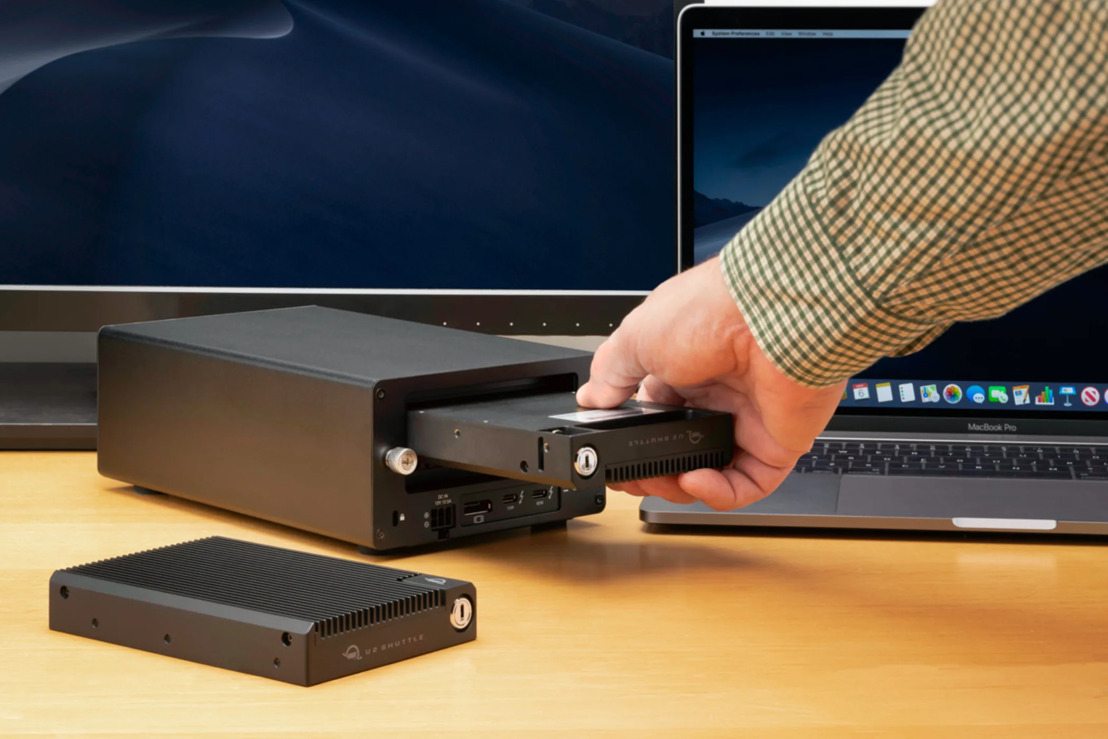 OWC Film And Video Essentials
OWC®, the premier zero-emissions Mac and PC technology company, and a respected provider of Memory, External Drives, SSDs, Mac & PC docking solutions, and performance upgrade kits is known for making some of the world's greatest hard drives, ram, upgrades, and more. But did you know OWC has a wide range of solutions for film and video professionals? Below you will find some of OWC's most innovative tools to make your workflow seamless.
OWC Mercury Helios 3S + U.2 NVMe Interchange System Bundle
For media and entertainment industry professionals seeking the fastest performance from U.2 NVMe SSDs with easy drive swap convenience in a protective, transportable carrier. Speed. Security. Savings. The holy trinity of data storage requirements in production to lab workflow is transformed by the OWC U.2 NVMe Interchange System and its application for the OWC Mercury Helios 3S. By combining a locking drive bay and removable tray, the OWC U.2 NVMe Interchange System turns the Mercury Helios 3S PCIe Expansion chassis into a time and money-saving swappable U.2 NVMe SSD storage solution for high-performance film production requirements.

OWC Mercury Pro U.2 Dual
The OWC Mercury Pro U.2 Dual is powered by up to eight NVMe SSDs, so you can edit high-res files on the fly, ingest and duplicate dailies without a hitch, rip through the tightest of timelines, and backup massive music and photo libraries in a flash. While it offers blazingly fast performance with a large storage capacity, this compact solution is small enough to easily fit on a DIT cart, in a rack, or on your desktop.

OWC U2 ShuttleOne
The OWC U2 ShuttleOne brings U.2 SSD performance and capacity to the mainstream with a flexible, easy-to-use "build your own" heat dissipating full metal adapter. Performance enthusiasts, IT admins, M&E pros, gamers, and more can now use a readily available and affordable NVMe M.2 "blade" style SSD in a 2.5-inch U.2 bay. Whether you have a U.2 bay equipped server, workstation, gaming rig, or external drive, the OWC U2 ShuttleOne gives you access to a new world of storage possibilities.

OWC U2 Shuttle
Blistering speed. Massive capacity. RAID-ready flexibility. Swappable convenience. The OWC U2 Shuttle is everything you've wanted in a multiple-blade SSD but couldn't get it until now. It is the world's first shuttle for four NVMe SSDs that easily inserts into 3.5-inch drive bays. Built for OWC storage and PCIe expansion solutions, the OWC U2 Shuttle is an innovative carrier shuttle that works with PCs and servers with U.2 drive bays.

OWC Mercury Pro LTO
This easily integrated tape backup and an archiving solution is a mission-critical requirement for protecting and preserving vast volumes of data for more extended periods with the familiar drag-and-drop operation and better economies of scale than disk-based storage. The OWC Mercury Pro LTO is the answer to this challenge. Ruggedly small with a built-in handle, the Mercury Pro LTO can go on-set or move among studio, department, or office computers for a shared data protection solution. Configurable by adding up to a 16TB SSD in the universal 2.5/3.5-inch drive expansion bay. Expansive utilize the second Thunderbolt 3 port3 to add up to five additional Thunderbolt devices, or your choice of a USB-C or DisplayPort device. See more with the DisplayPort 1.4 for connecting to an 8K display. Charge while working 85W of notebook charging. Transportable compact form factor with built-in handles for moving between set and studio. Complete includes LTO-8 12TB data tape, cleaning tape, and Thunderbolt cable.
OWC ThunderBlade
OWC's extreme performance OWC ThunderBlade might be the ultimate working drive for media professionals. In terms of pure transfer speed, OWC ThunderBlade is at the absolute cutting edge of possibility. The Fastest. Period. In a fast-paced, professional environment, time is money, and performance is everything. The success of your project depends on quick data processing and demands performance and efficiency working with uncompressed, high-bandwidth content streams. The OWC ThunderBlade delivers the performance to match - capable of unbelievable transfer speeds up to 2800MB/s read & 2450MB/s write. And with SoftRAID, two OWC ThunderBlades can reach dizzying heights up to 3800MB/s. The OWC ThunderBlade is now offered in 32TB capacity.
OWC ThunderBay Flex 8
The OWC ThunderBay Flex 8 offers eight drive bays that support a mix of SATA/SAS and U.2/M.2 NVMe drives for up to 144TB of storage capacity. Next, there's a plethora of ports including two Thunderbolt 3, one USB-C, and two USB-A for device docking and charging. Whether you call it a workflow workhorse, a productivity platform, or a configurable command center, one description of the ThunderBay Flex 8 says it best. It's a groundbreaking workflow solution for digital imaging, VFX, video production, and video editing professionals from the world's leading Thunderbolt accessory manufacturer.
OWC Thunderbolt Dock
Three Thunderbolt ports and four USB ports empower you to connect to past, present, and future devices. Up to two 4K displays or a 5K/6K/8K display, high-performance storage including NVMe SSDs, A/V mixers, phones, tablets, even desktop accessories like a keyboard or mouse. With the OWC Thunderbolt Dock, an entire world of USB and Thunderbolt accessories is ready for you to connect and expand your capabilities.
OWC Thunderbolt Hub
The OWC Thunderbolt Hub is one hub to connect them all through a single Thunderbolt port on your Mac or PC. You can connect and charge anything via this compact hub. Dual 4K displays or one 5K/6K/8K display, high-performance storage including NVMe solutions, A/V mixers, phone or tablet, even desktop accessories like a keyboard or mouse. Accessories with past, present or future USB or Thunderbolt interfaces all connect to the OWC Thunderbolt Hub.
OWC Envoy Pro SX
The mild-mannered exterior of the Envoy Pro SX hides its true nature. It's super-fast. Super-versatile. Super-portable. Xtremely rugged to shrug off the most uncertain work and play settings. It is super-versatile in use. It goes from being a bus-powered drive for daily storage and backup tasks to efficiently handling the super-fast demands of production-level audio, design, and photography workflows. And you can use it with today's and tomorrow's Thunderbolt and USB4 equipped Macs and PCs to enjoy Xtreme real-world performance speeds up to 2847MB/s.
Jellyfish by OWC
The Jellyfish by OWC product family consists of Jellyfish Mobile: The first plug-and-play video workflow server that comes with a handle. Jellyfish Mobile was designed to be on-the-go or, at least, out of the server room. It excels with teams of four to six editors working with 4K media on the road or at the office. Jellyfish Tower: Matches the ease-of-use and plug-and-play magic powers of the Mobile and is as powerful as something you'd find in your server room. It's quiet enough to stand on its own in your edit bay and powerful enough to take on 6+ editors working with 4K media and beyond. Jellyfish Rack: The most powerful in the lineup plug-and-play solution, intended to live alongside all your other fancy server room equipment. Jellyfish Rack is the preferred solution for ultra-high-bandwidth connectivity (25GbE/50GbE) and seamlessly merges into the most complex enterprise network environments. All existing customers will be receiving direct communication regarding their support and upgrade paths within the coming weeks.

Pricing & Availability
OWC Mercury Helios 3S + U.2 NVMe Interchange System Bundle is available now on Macsales.com for $279.00
OWC Mercury Pro U.2 Dual will be available on Macsales.com in Q4 2021
OWC U2 ShuttleOne is available now on Macsales.com starting at $219.00OWC U2 Shuttle is available now on Macsales.com starting at $149.00
OWC Mercury Pro LTO is available now on Macsales.com starting at $749.00
OWC ThunderBay Flex 8 is available now on Macsales.com starting $1,199.00
OWC Thunderbolt Dock is available for pre-order on Macsales.com starting $279.00
OWC Thunderbolt Hub is available now on Macsales.com starting $179.00
OWC Envoy Pro SX is available now on Macsales.com starting $179.00
Jellyfish by OWC is available now on Macsales.com